Today musicMagpie are top of the world! At 3.14pm this Monday afternoon, they become the first ever eBay seller in the world to smash the 10 million feedback milestone. This is an amazing achievement by the company founded in in 2007 by Steve Oliver (pictured above) and Walter Gleeson, which initially focused on pre-owned CDs, buying from and selling to consumers. Today, they are a leader of re-commerce in the UK and US in the circular economy of consumer technology, books and disc media.
The 10 millionth feedback for musicMagpie was for a 'The Very Best Of Josef Locke' CD.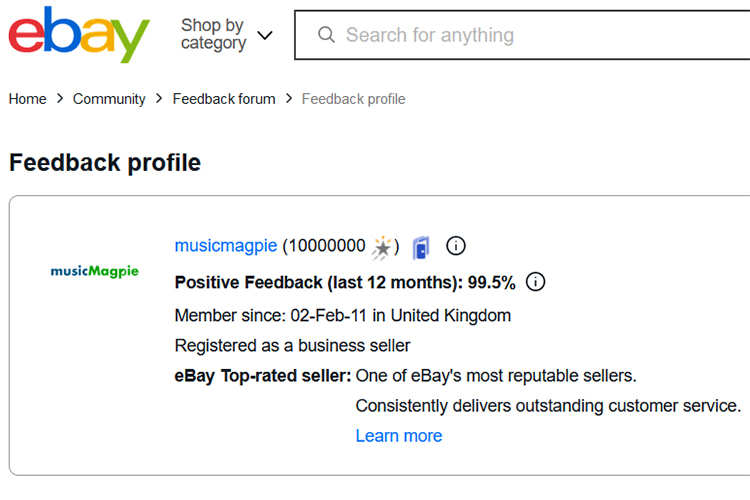 Here at Tamebay we are totally in awe of the 10 million feedback achievement. Anyone that's sold on eBay knows just how much effort goes into selling and the mind boggles at the thought of shipping 10 million items… and they've actually shipped triple that number as they have left over 32 million feedback for their buyers – not every buyer takes the time to leave feedback so this really is a mammoth milestone for the company.
It wasn't until 2011 musicMagpie began listing products for sale on eBay. At the same time they have also increased their physical presence, growing their chain of retail outlets to over 30 stores. Then ten years on, earlier in 2021, musicMagpie was listed on the London Stock Exchange AIM market so it's truly been a year of achievements for the business.
musicMagpie also hit the headlines in 2021 at the G7 summit in Cornwall this year when they unveiled Mount Recyclemore to highlight the huge threat E-waste poses to the environment. Mount Recyclemore, created by the artist Joe Rush and musicMagpie, a giant sculpture of the G7 leaders' heads made entirely of discarded electronics, was originally situated on Sandy Acres beach opposite the G7 summit in Carbis Bay. Mount Recyclemore certainly caught the attention of the G7 leaders and has now been relocated to Stockport and can be seen in the image above outside the musicMagpie offices.
Naturally today is a day of celebration at this massive first, both for eBay and for musicMagpie. No one else has yet come close to the 10 million feedback milestone and only a handful have broken the 5 million feedback barrier… following musicMagpie who were also first to 5 million feedback in 2017.
I imagine corks will be popping at musicMagpie and at eBay HQ both in Richmond and San Jose today….. 10,000,000 feedback! Wow! Massive congratulations to the entire musicMagpie team!
"After our float on the stock market earlier this year, the good news keeps on coming. We've worked with eBay for over ten years, and we're immensely proud to hit the 10 million feedback milestone – it's a huge testament to our team and the trust our customers have in us. We thoroughly enjoy working in partnership with eBay and look forward to hitting the 20 million milestone!"
– Steve Oliver, co-Founder and Group CEO, musicMagpie
"Everyone at eBay is delighted by what Steve and his team at musicMagpie have achieved. As one of our earliest UK business sellers, it has been a joy to watch them go from a garage start-up to a multi-million-pound business. The 10 million feedback milestone is no easy feat and is a testament to musicMagpie's brilliant product offering, value and first-class service. They've made the most out of what eBay's marketplace has to offer, and we couldn't be happier to have played a role in their success. We can't wait to see what record they break next."
– Murray Lambell, UK General Manager, eBay